The OhMiBod Fuse represents the collaborative effort of two teledildonic giants, Kiiroo, a Dutch interactive sex toy designer, and OhMiBod, the US company whose sound and tip responsive toys have already had a massive impact on the camming world.
The Fuse comes with several key features, highlighting the best capabilities of both toymakers. It's Bluetooth enabled, touch-sensitive, and offers 2-way interactivity. This latter feature means that it can connect with, control, and be controlled by the device of another user. This is a development that has even more revolutionary implications for the future of cam-models and their customers, and will be the focus of this review.
But first, the meat and potatoes: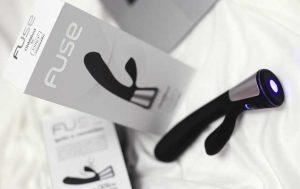 The Fuse features a high-quality matte-silicon shaft that is incredibly pleasing to the touch. The exterior has a silky, non-synthetic feel, and nothing seems to stick to it. It's not too big and not too small at just over 7 inches (180mm) long, while sporting a tapering circumference that maxes out at 1.3 inches (34mm) at the head. This is the perfect size for multiple on-cam performances, as it provides enormous pleasure without testing physical limits.
Unlike some other 2-way and Bluetooth capable sex toys, the Fuse's ease of use is practically without equal. Where connecting some other, similar devices to their respective apps can be tedious, the Fuse is in Bluetooth mode from the moment you power it on. Switching it to another mode requires only additional presses of the same button.
Pressing the power button while in Bluetooth mode will switch it to "Touch-Sensitive" mode. If you're using this toy on your own, or without connecting it to a customer, this technology is really impressive. The vibration strength is for real. Fully charged, the fuse will make your body rumble and quake in all the right ways, varying in speed and strength as you apply friction and pressure.
Pressing the power button again from "Touch Sensitive" mode will allow you to cycle through 7 preset vibration patterns. All of these are great, but are not nearly as impressive as the ability to control the responsiveness with your own body. Note that the Fuse is not the quietest toy. We wouldn't call it loud either, but at full charge, your roommate or co-habitant in the next room may get an inkling of what you're doing in your room.
2-Way Interactivity: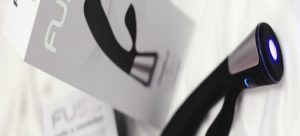 Cycling back to Bluetooth mode, where you can use the FeelConnect App to use the toy alongside encoded video and VR content, this toy functions well. But where the Fuse really shines for models is with its 2-way capability. For the first time ever, you can form relationships with your customers in which you can both safely express yourselves physically. Depending on which device your customer owns, you can touch, insert, suck, or manipulate your OhMiBod Fuse, and they can feel what you're doing in their own toy. While the Fuse pairs incredibly with toys like the Onxy2 or the Launch, it also boasts the most versatile compatibility list of any 2-way interactive toy. (insert compat list from interactive page here).
At present, Flirt4Free is the only US site to embrace 2-way interactive toys. In my research, I found this write-up of a private show where one of their top models performed while connecting her OhMiBod Fuse to the Onyx2. If you have the ability to view the video of this performance, you should. It demonstrates a level of intimate sexiness your fans have only dreamed of, while still respecting a model's safety and privacy.
OhMiBod Fuse Cons:
While the OhMiBod Fuse is certainly at the top of its class for interactivity, design, and ease of use, it does come with some minor flaws.
It's splash resistant, but not water resistant, due to the charge port. It can't be submerged in water, so cleaning it after a show can be a bit of a chore. This is negated somewhat by the high quality of the silicon matte, which is very cling-resistant and doesn't really gather dust. But, still, if you want to clean it thoroughly you might have to keep your customer waiting.
The clitoral stim doesn't have its own motor. Its vibrations are residual from the shaft. While this isn't a dealbreaker, I occasionally felt like more clitoral stimulation would enhance an already great experience.
Fully charged the OhMiBod Fuse has a 60 minute battery life. For someone using this at home for their own pleasure, that's plenty. But if you're a cam girl (or guy) expecting to perform multiple interactive shows in the course of a broadcast, you may want to charge diligently. The charge time once the battery-low LED flashes is roughly two hours.
Verdict: The OhMiBod Fuse is highly versatile as an interactive toy, feels awesome to the touch, offers unique touch-sensitive technology, and can connect with virtually every popular 2-way toy on the market. As its flaws are minor, I predict that many cam-girls will be working it into their modeling repertoire.