I want to dive deep into interactive devices. I recently spoke about "interactive devices" here. But what are they and what can they do for cam models? They're sex toys (vibes, phalluses, masturbation sleeves … etc) that can be connected to a mobile app. Through the app, they can be controlled by a remote user, even thousands of miles away. And the latest models, like the Fuse (which I wrote about here) allow this control on a 2-way level; meaning that two people with compatible toys on different sides of the planet can express themselves physically in a mutual way. For people in long distance relationships, this means their intimacy can cross continents.
Immersion
For cam guys and cam girls, 2-way interactive toys offer a new level  of immersion to your performances. After all, immersion is one of the biggest selling points of a cam show. It's already an interactive experience, where your customers can converse with you, get to know you, have real conversations, and make real-time naughty requests. A successful private show is usually one that most caters to the customer's desires, right? Therefore, toys that give you the ability to express yourselves physically as well as emotionally should only heighten the experience.
So are 2-way interactive toys taking the camming world by storm? Well, I think what we're seeing at the moment is a technological revolution in its fledgling stages. It reminds me of VR, which is huge and mainstream now, but gained its first foothold in the adult industry.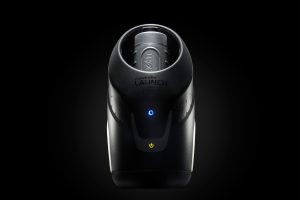 Flirt4Free is the first of the big-name cam sites to fully embrace these toys. Their interactive page offers customers and models a full tutorial on connecting and controlling a wide variety of devices. Top model, Nazanin Hunter's interactive Fuse show is viewable as a Video on Demand, and the site reviewed this performance on their blog. If you have the means, I highly recommend watching it. It's a great example of this exciting tech in action. "My squirt show is the best show I do, and when it's interactive, it's even better, because my customers can give me real pleasure," Nazanin said when asked about these devices. "It's so much more intimate. I feel closer to my customers and now I don't have to do all the work! (laughs) They can help me!"
Feel Everything
We asked several other Flirt4Free models about the effect of 2-way interactive on their performances and, more importantly, their profitability.
Popular duo Crhistian & Dereckk often use the Fuse and the Onyx2 into their hardcore shows.
"It's way more fun because it's not just us that feel everything. The customers can feel what we do. So there is a stronger connection, even with a great distance between us," said Crhistian.

"My favorite is when I can tie Crhistian up," his partner Dereckk added, "then use the toys to let the customer drive him wild. That really makes him moan and brings in some fantastic tips. There's really no other experience like it."
Fast-rising cam girl, Antonela Adams, had this to say about her Fuse shows: "I never had a toy like this before, that another person could control. It was so impressive. The sensations we both feel are much deeper. It allows us to be closer and interact more. And after an interactive show, I'm always certain my customers will come back to me."
Logan Cardenas, one of Flirt's elite male models, has also recently integrated the Fuse into his performances. "I always loved using toys in private shows. And these toys are so cool, because not only do the customers get to feel pleasure along with you, but many of them offer different sensations depending on whether you use your hand or mouth on it, or put it inside you. It makes privates way more dynamic."
Ground Floor
This feels like the right time to get in on the ground floor of this movement. Two-way toys are on the rise, and only slightly more costly than the average quality sex toy. Offering your potential customers a level of immersion they can't find anywhere else is a surefire way to make yourself stand out from other cam models, and has the potential to pay dividends as 2-way becomes more prevalent throughout the industry.