To type or to talk, that is the question…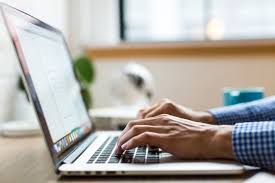 Honestly, this is an age old question for cam models. Is it better to type or to talk to your customers in your public chat space? As with most "age-old" questions, there is no obvious right answer. Most models will use some combination of both, and lean more heavily toward the option that nets them the most tips on their platform of choice.
Below I present you with some arguments for and against both. I hope they can help you decide what's best for you and your on-cam performance.
The Tips: Talk vs. Type
Immersion: As a cam model, your voice is a commodity. It can be used to entice customers to tip or take you private. It can be a reward for their investment. You're selling the fantasy of your intimate friendship, and hearing the voices of your lovers and friends can be both comforting and exciting.
Discretion: One thing to consider is that, though most customers want to hear your voice, not all of them can. For every viewer listening through headphones and hanging on your every word, there will be another trying to keep his or her visit to your chatroom quiet and discreet … who have to rely on the keyboard to communicate their desires out of necessity.
Intimacy: Even Princess Ariel, as cute as she is, had trouble landing Prince Eric when unable to talk. The voice is a vital tool in the art of seduction, especially in cam-modelling, because your customer is already deprived of their sense of touch. In steamy private sessions, communicating your approval and demonstrating your pleasure, whispering your sexy thoughts, or simply moaning will have a very positive effect on customers.
Glossophobia: AKA the fear of public speaking. It's one of the most common phobias. Many of us, as cam models, are naturally introverted. The idea of rambling nervously before a live audience can be positively terrifying. Typing out a response in chat gives us more time to process the conversation and tailor our response to be sexy, witty, and enticing. All important factors for customers.
Multi-tasking: Even the most competent typist might have trouble tracking multiple conversations in a crowded chat room. Calling out your response to a customer's question will allow you to satisfy them while still keeping tabs on other group or one-on-one conversations
Still-life: Typing is a sedentary activity. When a new customer pops into your room and sees you just sitting and typing, they may not feel engaged enough to stick around. They might just assume you won't pay attention to them, or that you don't speak English. Maybe they will move on.
Whispers: While your voice may be part of what engages a new customer's interest, your attention is even more valuable to them. Many of the top sites have a whisper feature, allowing you to slip private chat messages to users. In a bustling public chat room, a whisper can show a new customer that they're welcome. Like a love note, you've given them something "for their eyes only." This shows they have your attention.
Realism: Your voice is a part of you. Using it heightens the organic quality of your public chat and private show appearances. It makes you seem more attainable and less like a beautiful body viewed through a square of protective glass.
This list is contradictory. To be honest, that is the point.
While you may prefer one method of communicating with customers over the other, you will have to strike the right balance for both, and learn when to engage in each. Both typing and talking to your customers can feel intimidating at first. After a while these skills will improve. Soon, customers will hang on your every word, no matter the format you use.
Sound good? Interested in becoming a cam model? Well, today's your lucky day, because here are two resources (Webcam4Money and College Cam Jobs) to help you in your journey.